Proposal for Traffic Calming and Child Safety
Date Posted: Thursday, November 10th, 2011

Proposal for Traffic Calming and Child Safety Thomas Harmon Drive, Newell's Creek Community.
October 11, 2011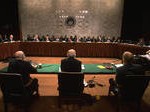 Summary:
Several Newell's Creek residents approached the Mayor regarding the traffic volume and their concern for the safety of children in the neighborhood.
A survey of the community resulted in 129 homes participating. Sixty Six percent of the responding home voted in favor of a closure on Thomas Harmon Drive.
A traffic survey using the Camden Police radar box was conducted over a period of two weeks, one week in each direction on Thomas Harmon Drive. The survey shows an average of 4574 vehicles per day measured over seven days in each direction. The measurements were made in August 2010 using the Camden Police radar box which measured the count and speed in one direction at a time. A chart showing the data is attached as Appendix A.
Caesar Rodney School District has provided a student count which shows 153 students of which 63 walk to Nellie Stokes School. A survey performed by the residents found an additional 50 students that attend other schools including private schools.
After meeting with police, fire and ambulance first responders and with DelDot it is recommended that East bound traffic be blocked from exiting Newell's Creek Community, (NCC), into the WalMart and Camden Town Center commercial areas.
The plan will calm traffic at the three way stop on Thomas Harmon and WalMart Drive.
First responders will have access through Newell's Creek to the commercial center and U.S 13.
A "Safe Routes To School" request will be filed by Newell's Creek residents. The request will be to install crosswalk markings and "Yield to Pedestrians" signs on the intersections in the community. The funding for this project, if approved, will come from the funds available to Nellie Stokes School.
Senator Brian Bushweller and Representative Donald Blakey will be requested to provide Community Traffic Funds to purchase and install the necessary materials.
Tags: Camden, Camden Delaware, Child Safety, Proposal, Town of Camden, Traffic Calming